Introduction: This article provides instructions on how to redeem your first AppSumo deal code for the fluXtore plugin. By following these steps, you will be able to activate your license, download fluXtore Pro, and enjoy the benefits of this AppSumo deal on your websites.
Step 1: Accessing Your AppSumo Account: Go to your AppSumo user area and log in using your credentials.
Step 2: Copying Your Code: Once logged in, navigate to your user area where your purchased deals are listed. Locate your first code and copy it to your clipboard.
Step 3: Redeeming the Code on the fluXtore Website: Visit fluxtore.com/appsumo on your web browser. Paste the code you copied earlier into the provided form and click on the "Redeem" button to proceed.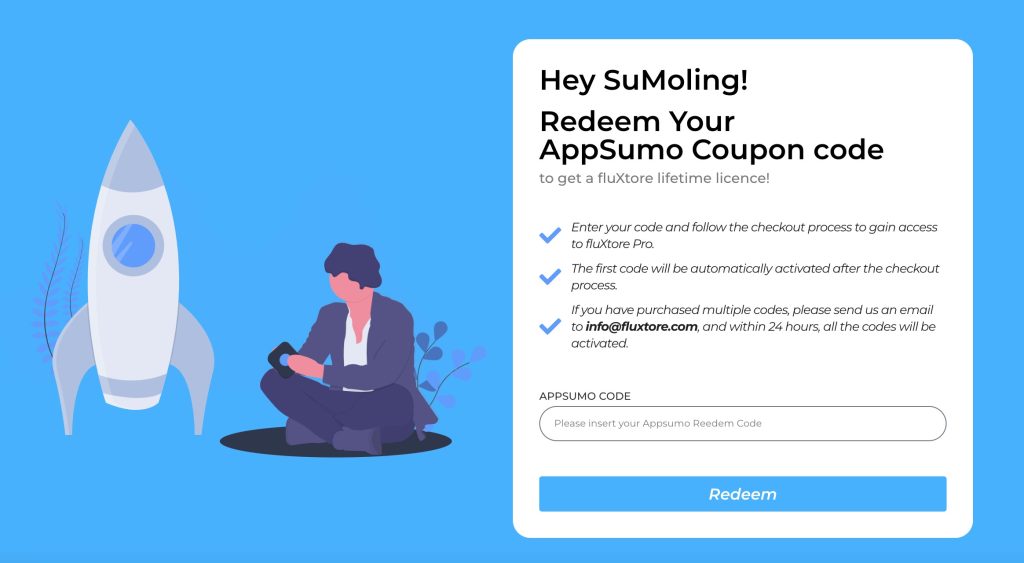 Step 4: Completing the Checkout Process: Follow the instructions on the checkout page to finalize the process. Once the checkout is completed, you will be redirected to an order summary page.
Step 5: Viewing Your License and Downloading fluXtore Pro: On the order summary page, you will be able to view your license information. Please ensure not to share this license with anyone else. You can also download your copy of fluXtore Pro from this page.
Step 6: Activating fluXtore Pro Tier 1: Upon activating fluXtore Pro Tier 1, you will have access to 3 lifetime licenses that can be used on your websites.
Conclusion: Congratulations! You have successfully redeemed your first AppSumo deal code for the fluXtore plugin. By following the steps above, you have activated your license, downloaded fluXtore Pro, and gained three lifetime licenses for your websites. Enjoy the enhanced functionality provided by fluXtore on your WordPress sites.
Please note: The steps provided in this article are subject to change based on the AppSumo platform's interface and fluXtore's website. Refer to the latest instructions and guidelines provided by AppSumo and the fluXtore team for the most accurate information.
Next guide: "AppSumo Deal Stacking Code" – If you have purchased multiple codes, please refer to the next guide for instructions on how to stack and activate them.